August 29th, 2017
Senator Phillips Co-Hosts Skin Cancer Screening In Roslyn, NY.
ELAINE PHILLIPS

 
August 29th, 2017
Senator Elaine Phillips, in partnership with Colette Coyne Melanoma Awareness Campaign and Northwell Dermatology Group, hosted a free Skin Cancer Screening on Saturday at the Christopher Morley Park in Roslyn.
"Skin screenings are extremely important for detecting melanoma and other skin cancers in the early stages," Senator Elaine Phillips. "Getting tested regularly, no matter your age or how much time you spend in the sun, is paramount and can be life-saving. Skin cancer is the most common cancer in the United States and I am pleased so many local residents took advantage of the free screening."
Colette Coyne, for whom the Colette Coyne Melanoma Awareness Campaign is named after, passed away at just 30 years old after melanoma spread to her liver, bones and lungs. A bright young woman with a promising future, Colette touched the lives of everyone she encountered. The Colette Coyne Melanoma Awareness Campaign works to bring awareness to skin cancer and encourages people to get tested early and regularly.
CCMAC is especially grateful to Northwell Dermatology, Belaray Dermatology, and Dr. Ted Daly of Garden City Dermatology, without their dedication and caring for the community these life saving screenings would not be possible, THANK YOU ALL!!!  
---
June 2017
Annual Miles for Melanoma, Steps to Stop Skin Cancer 5K Run/Walk

 
A Huge Success!
Click Here to View and/or Download All Pictures From The Event
---
Pallet Sign Paint Night for a Cause
May 2017
Kelli Martucci, celebrating 11 years cancer free this year raised $1850.00 dollars at a community fundraiser she organized, designed to raise awareness of the dangers of skin cancer and to have fun. She organized a "Pallet Sign Paint Night for a Cause", hosted by the East Meadow Firehouse. Some of the pictures from the event are posted below in the slider.
Thank You Kelli!
---
---
Battle of the Classes: Battling for a Cause
Carle Place Students Battle to Fight Skin Cancer
February 2017
By: Emily Cotter, Student Organization Secretary, Carle Place High School, Carle Place New York
On Friday, February 3, the Carle Place Student Organization and Key Club hosted the 10th annual Battle of the Classes: Battling for a Cause. The donations raised from this year's battle will be donated to the Colette Coyne Melanoma Awareness Campaign (CCMAC). The campaign was founded by Colette Coyne in memory of her daughter, also named Colette, in order to increase public awareness regarding the dangers and causes of skin cancer in the early education of youth, families and the community. The life of Colette as well as Lynn DeVivo-Bao, sister of Carle Place MS/HS Athletic Director Chris Ceruti, and Leanne Kozak, a Carle Place graduate of the class of 2006, were honored through the event.
After numerous months of planning from the Student Organization and the Key Club, students crowded the main lobby, ready to battle for cause. Senior Maria Buffolino calls BOTC, "one of the most spirited and unified days of the entire year." During Battle, students participate in events like ultimate frisbee, basketball, tug-of-war, relay races, a skit competition, Wii Just Dance, and a new event, the spelling bee. This event shows how much a small town like Carle Place can come together for an important issue. Students raised over $26,000 for the Colette Coyne Melanoma Awareness Campaign. The goal of this year's Battle of the Classes was to raise awareness of the dangers of skin cancer like melanoma and to ensure that students remain diligent when in the sun. Thanks to the efforts of the Student Organization and the Key club, #BOTC2017 is sure to be a night that will be remembered forever. Student organization president, Lauren Nagy, stated that "Battle of the Classes is a really rewarding experience. We get to see the different grades work together to achieve something amazing. After we spent so many hours playing this event, the positive feedback from students and faculty alike make the entire event worthwhile."
Congratulations to our top fundraiser, junior Gabriella Murray and to the class of 2017 for winning the 2017 Battle of the Classes; Battling for a Cause.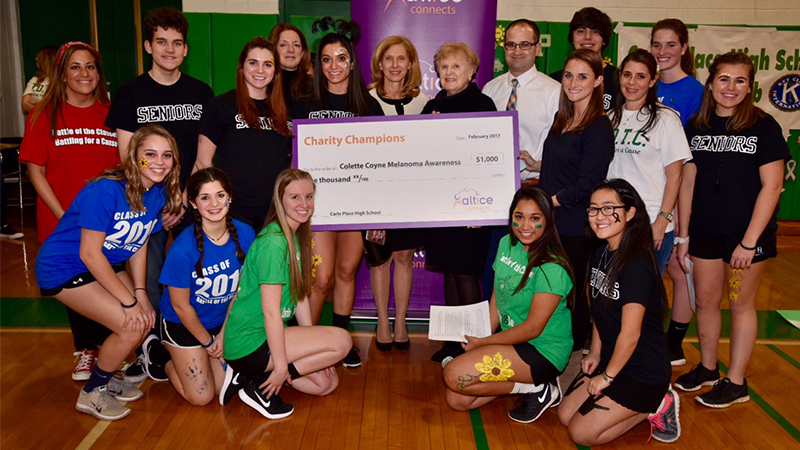 New York State Senator Elaine Phillips (left center), Colette Coyne, Co-Founder of CCMAC (right center), Assemblyman Ed Ra (sixth right), and Evlyn Tsimis (fourth left) of Altice Connects and Amanda Pugliese of News 12 Varsity (fourth right) and the outstanding students from Carle Place High School receiving a check for $1000.00 dollars donated by Altice Connect to support the CPHS Students Battle for a Cause.
CLICK HERE FOR MORE INFORMATION and VIDEOS FROM THE EVENT
---
Carle Place Community Defies Weather Conditions to Honor Two of Their Own, Leanne Kozak and Lynn DeVivo
           

 Leanne Kozak

   

Lynn DeVivo
January 7th 2017
Despite the years first big snowfall, blustery winds, near white out conditions, and very, very cold temperatures. Members of the Carle Place community braved the elements and turned out in droves to celebrate and honor the lives of two of their own, Leanne Kozak and Lynn Devivo, who lost their battles with Melanoma, the deadliest form of Skin Cancer.
The event organizer Paul Steck (Melanoma Survivor), his wife Maria, daughter Natalie, the Carle Place Community, and the family and friends of Leanne and Lynn continue to raise awareness and spread the "Be Sun Smart" message to prevent Skin Cancer Melanoma. Protect Yourself From the Dangerous and Deadly UV Rays of the Sun; Wear sunscreen daily, hats, sunglasses, and UV clothing; See Your Dermatologist Yearly, and Don't Use Tanning Beds!
The evening's event was a huge success. It was held at Manning's Restaurant and Pub located in Carle Place; featuring food, drinks, dancing, magic, music, door prizes, silent and Chinese auctions and more.
CCMAC THANKS Natalie Steck, Jessica Pisani, Julia Beattie and our MC Thomas Vestuto for all their help making the event a success!
CCMAC THANKS all the following for their donations that helped make the event a success!
200 Computer Solutions, Air Brush by Kathy, Kathy Kozak, The Antonacci Family, Café Gino's, Carmen Drugs, Christina Shaw Agency, Denise Coucoulas, Eillen Lichtenstein, Eileen & Kathy Kozak, Fred & Kathy Kortmann, Greenvale Electric – Rich Russel, Jo Haramis, Harold Bollachi Esq., Joan & Ed Steck, Keystone Tire & Auto Repair, La Botega, Carle Place, Lisbon Café, Michael Rossetti, Mike Kelly, Hoops 101, Mill Creek Inn, Mim's Restaurant, NRL Wealth Creation Strategies, Organic Crush, Paniccia Family, Panera Restaurant, Pat McHugh, Paul & Maria Steck, Phil Smith, Stew Leonards, The Coyne Family, The Pisani Family, Tildet Varon – Growing With Truth Inc., Vincents Clam Bar, and Wheatley Hills Discounts Wine and Spirits.
Event Pictures
Auction Winners
Phil Smith @ www.Philsmithmusic.com
Magician Michael Rosetti @ www.magicmichaelrossetti.com/
Natalie Steck, Jessica Pisani, Julia Beattie and our MC Thomas Vestuto
---
Be Sun Smart!
---