Team: Connie's Crew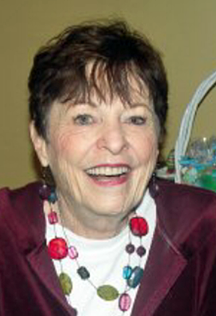 Connie McGinley
In loving memory of our  amazing mother and grandmother, Connie McGinley. Connie was diagnosed with malignant melanoma in Jan. 1995. This never stopped her from living her life to the fullest. She had the most unbelievable sense of humor and was an inspiration to us all. She taught us the meaning of courage and faith and we are so blessed to have had her in our lives. Connie lost a hard fought battle to melanoma in May 2013 but her spirit lives on in all of us.
Amount Raised: $2255.00
Team Captain: Kathy Kovalsky
Team Members: Kathy and You!
| | | |
| --- | --- | --- |
| Kathy Kovalsky | Bob Kovalsky | Bobby Kovalsky |
| Carlene Bryant | Tamara Vo | Debra Briody |
| Audrey Schein | Kim Drapala | Bernadette & Michael Philibin |
| Mary Esposito | John Esposito | Nicholas Esposito |
| Julie Esposito | Kriste LaMaina | Denis Odonoghue |
| Mary Ellen Ventimiglia | Maureen Odonoghue  | Lyndsay Kovalsky |
---
Jamie Odonoghue

……

Shannon Odonoghue 

Barbara Young

Michele Matz

Gina Arcabascio

Sydney McGinely

Barbara Young

Michele Matz

Gina Arcabascio

Rosemarie Ciro

Linda Cignarella

Alison Casey

Melissa Zweigbaum

Maryellen LaClaustra

Kathy Gubitosi Eagle
Joseph McGinley

aaa

 

Kayla Kovalsky

Peggy Gilroy

Jamie Mayo

Sandra Esposito

aaaa

Kathleen Schiavo  

Joan P. O'Connell 

Kim Johnson 

All Talk Know Action Inc.  

Sebastian Labarbera 

Joseph McGinley 

Colleen Katchen 
Kathy J. Eagle
Gina Arcabascio

aaaaa

Veronica Loehle
Marianne Candito

aa 
The "More Information" button below will take you to a page with more information about the 5k Run/Walk. You can also register online and/or donate from that page.

The "Register Online Now" button below will take you directly to the registration page. On this page you can register for the Run or the Walk and make a donation at the same time.  

The "Donation Only" button is for individuals who are NOT attending the event. They are NOT Running or Walking, but wish to make a donation "In Honor Of, or In Memory Of" a TEAM, Person, or Organization. 

Make Sure to Check Connie McGinley's TEAM When Registering or Donating
Download Raffle Tickets for a Drawing to be Held that Day!
Return them in the mail (directions included in download) or bring tickets & money to the event.
Click on Image Below for the Raffle Tickets

Be Sun Smart!