---
Love & Support From Across the Pond
Katie Gorwits Hikes the Scottish West Highlands in Memory of Amy Gorwits
Katie Raised $1650 dollars for AMY's Dream and the Colette Coyne Melanoma Awareness Campaign. Here is her story.
This past September Katie embarked on the toughest physical challenge she has ever set out to do, the Scottish West Highland Way (WHW). The WHW is a 96 mile (154 Km) route from Milngavie to Fort William, taking in a huge variety of scenery along the way, from countryside parks to loch-shores and open moorlands to steep mountains! Yes you read right, I am going to walk this in 7 days!
To some individuals this would be their idea of a nightmare – why would you want to walk that far? Oh … you call that a holiday? You find that relaxing? I have been asked these numerous questions and many more over the past few months whilst planning the walk, but to be honest I can't wait to get my hiking boots strapped on and start walking.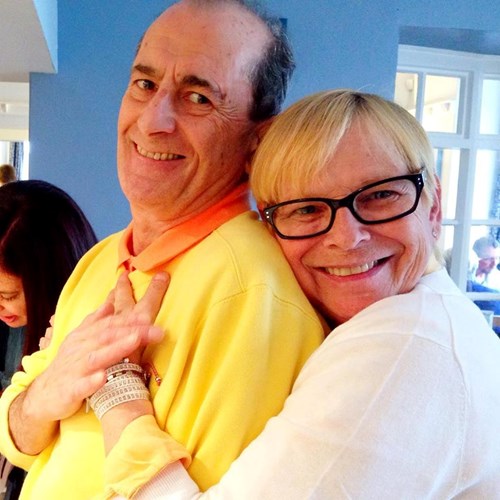 ---

Melanoma Action Coalition & Melanoma Research Alliance Launch SunSavvy365
The Melanoma Action Coalition and the Melanoma Research Alliance are partnering to launch SunSavvy365, an online campaign to remind everyone that the need for sun safety does not end on Labor Day. The campaign toolkit, freely available to anyone at,  www.SunSavvy365.org includes dozens of tailor prevention messages that can be easily shared via Facebook, Twitter and Instagram to remind parents, young adults, and children to protect their own skin every day.
Be Sun Smart, All Year Long!
---
C

olette

C

oyne 

M

elanoma

A

wareness

C

ampaign
14th Annual 
Miles for Melanoma, Steps to Stop Skin Cancer
5K Run / Walk
The Rain Did Not Dampen Our Spirits
The rain did not dampen the spirits of those who came to honor and support their loved ones. While the weather could have been better, those who participated could not have been. It was a fun filled (WET) day and a good time was had by all. Below view some of the many pictures taken at the event.
.
---
The Teams
.
---
The 5K Run
.
---
The Walk
.
---
Melanoma Monday, May 7th 2018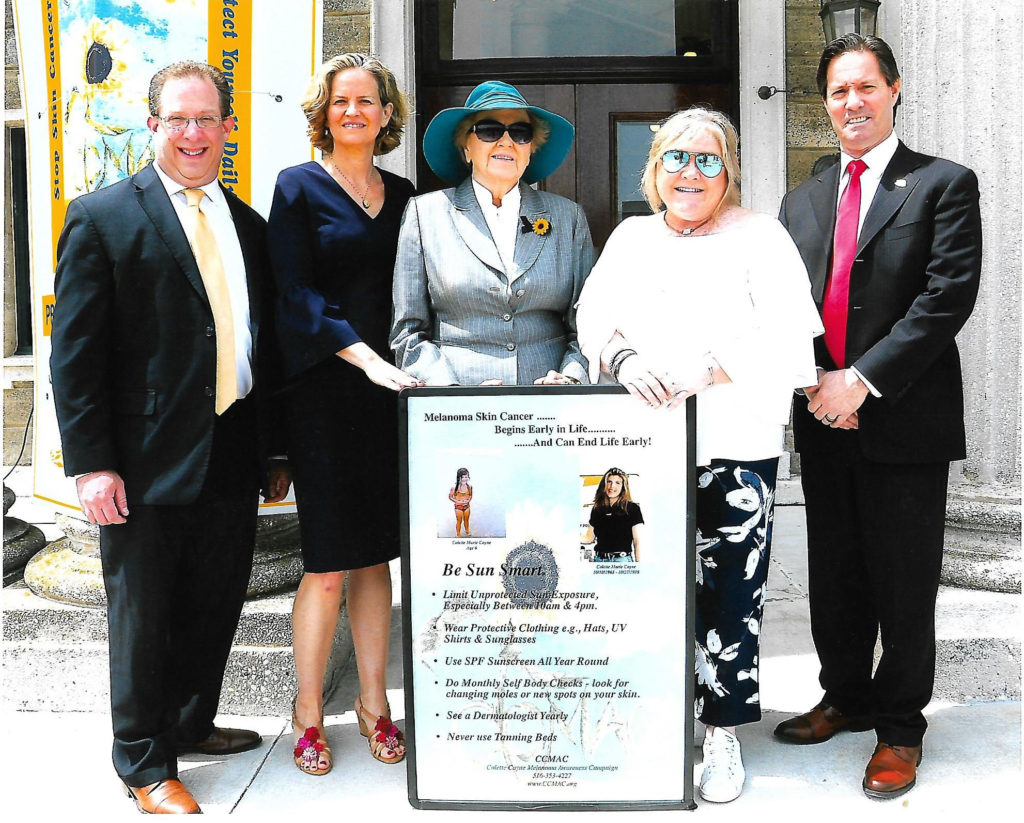 CCMAC is grateful that the new Nassau County Executive Lauren Curren (2nd from left) and the Nassau County Health Commissioner Lawrence Eisenstein (Left) recognize the importance of Melanoma Monday, and that May is Melanoma Awareness Month. Also pictured above are; Colette Coyne (Founder of the Colette Coyne Melanoma Awareness Campaign – CCMAC),  Sharon Galvin (Melanoma Survivor) and John SKinner.
Be Sun Smart!
---
Hampton Bays High School's
Tonight, It's All About Me! Health & Wellness Fair
On April 16th 2018 CCMAC participated in the Southampton Youth Board & Hampton Bays High School's "Tonight, It's All About Me! Health and Wellness Fair. Thomas Coyne shared CCMAC's Be Sun Smart message with students, teachers and other school personnel in attendance. CCMAC's Dermascan got a great deal of use, as many in attendance viewed damage to their skin often not otherwise seen by the naked eye. Many were quite shocked at what they saw and commented that they will have to do better at protecting their skin from the dangerous rays of the sun. 
CCMAC Thanks the Southampton Youth Board, Event Coordinator Katherine Budas & Drew Martin of Hampton Bays High School for inviting us and their commitment to preventing Skin Cancer / Melanoma.  
BE SUN SMART!    ALL YEAR LONG! 
---
Squash Out Skin Cancer Challenge
---
Previous Events