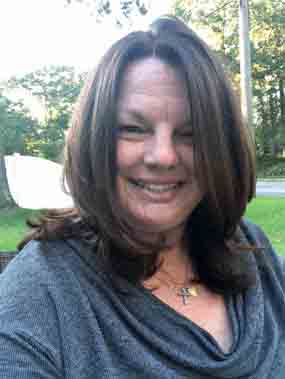 Team Dragon Slayer
Hi,
My name is Valerie Benkov. I am a stage 3 recurrent Melanoma Warrior. My sister Diane is a ten-year Stage One Melanoma survivor. Because of her I had started and had been regularly going to the dermatologist for a few years. I had several biopsies over the years, and all were fine. In April 2016 on my chin a new mole appeared, it changed very rapidly over 6 months. Never did I expect to hear the words, "you have Melanoma", this was November 2016. The mole was on my chin and a punch biopsy revealed it was more than 1 mm in depth and Mohs was not an option. The depth was critical to possible lymph node invasion. A full chin excision was needed. I was terrified from the beginning and looked at my husband with tears streaming down my face wondering about him, wondering about our two boys.
I prayed a lot, I asked for signs from my dad who at the time was just passed one year. My father was the toughest person I knew, and many will tell you I am very much like him. My dad answered me. I was out one day just few days after the Melanoma diagnosis. I noticed a large poster advertisement. It was a portrait of young girl maybe 8-10 years old, she held a knight shield and sword. The tag line was, be the slayer of your own dragons. I knew this was my dad reminding me how tough I was, and I had this. It was from that moment on I grounded myself with strength, fierceness and positivity and never looked back on worry or fear. I would be the Dragon Slayer of my Melanoma.
December 18, 2016 was chin excision first surgery which was five hours and included a sentinel node biopsy. 14 nodes where removed, all where clean, no melanoma found. December 23, 2016 I was back in surgery because the margins were not clear, and more dermis needed to be removed from up under my lip. The second surgery was 3-hours long which include the start of reconstruction of my chin.
Fast forward 15 months of healing and continued visits to the dermatologist I was clean. March 2018, I woke up to a lump in my neck. I knew immediately in my mind Melanoma was back. After a needle aspiration confirmed the tumor in my neck was in fact Melanoma, the Dragon Slayer yielded her sword once again. I interviewed 3 different medical institutions both for surgical and oncology opinions. I ended up choosing MSK and on May 1, 2018, I had a six-hour surgery. I did not have one tumor in my neck there was a second tumor hiding behind the one we knew was there. I had bilateral neck dissection to remove all the lymph nodes level 1, 2 and 3. I began Immunotherapy treatments on May 7, 2018 and received the infusion treatments every 4 weeks.
The Dragon Slayer is winning. As I prepare to walk my First Walk with CCMAC I WILL BE ONE YEAR MELANOMA FREE and I will be done with Immunotherapy. I slay for me. I battle for my husband and two boys. I will always be a WARRIOR to raise awareness. Melanoma is a cancer that most have little to no knowledge about and hopefully I can impact someone else.
Thank you for supporting my team.
Valerie
2019 Run / Walk
The Dragon Slayers
The Walk
The Female Winner, Overall
Team Captain: Valerie Benkov
The "More Information" Link Below" below will take you to a page with more information about the 5k Run/Walk. You can also register online and/or donate from that page.
The "Register Online Now" link below will take you directly to the registration page. On this page you can register for the Run or the Walk and make a donation at the same time.
The "Donation Only" link below is for individuals who are NOT attending the event. They are NOT Running or Walking, but wish to make a donation "In Honor Of, or In Memory Of" a TEAM, Person, or Organization.
Be Sun Smart, All Year Long!