Team Peggy J.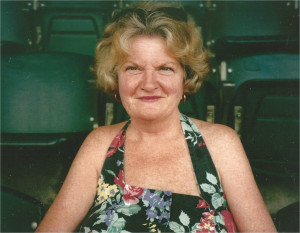 A Little About Peggy J.
On November 21, 2008 the runners of team Gram lost Margaret Jansen to a strenuous battle with melanoma. Margaret was the the light of all of our lives and anyone who has ever shared a smile with her can confirm her selflessness and undying devotion to her friends and family. Margaret was an amazing wife, sister, mother, grandmother and above all a fighter. The members of Team Gram have come together take each step towards the finish line In loving memory of our matriarch Margaret Jansen. We run to support our melanoma survivors, those who are suffering  and have fought hard and have been defeated. We run together as a family because we know our hopes and prayers to end the fight against melanoma are strongest when we work together as a team.
Amount Raised: $0400.00
Team Captain: Lauren Jansen
Team Members (Members Names and Total Amount Raised Will Be Posted One Time A Week)
| | | |
| --- | --- | --- |
| Lauren Jansen | Nancy Jansen | Ryan Jansen |
| Ian McAdams | Keara McAdams | Noreen Jansen McAdams |
| Mollie McAdams | Shannon McAdams | Skylar Shapiro |
| James McAdams | Liam McAdams | Ryan Jansen  |
|   |   |   |
.
The "More Information" button below will take you to a page with more information about the 5k Run/Walk. You can also register online and/or donate from that page.

The "Register Online Now" button below will take you directly to the registration page. On this page you can register for the Run or the Walk and make a donation at the same time.  

The "Donation Only" button is for individuals who are NOT attending the event. They are NOT Running or Walking, but wish to make a donation "In Honor Of, or In Memory Of" a TEAM, Person, or Organization. 

Make Sure to Check Peggy J's TEAM When Registering or Donating
Download Raffle Tickets for a Drawing to be Held that Day!
Return them in the mail (directions included in download) or bring tickets & money to the event.
Click on Image Below for the Raffle Tickets

Be Sun Smart!
.
Be Sun Smart!