Team Sharon Galvin
Support Her Fight Against Melanoma!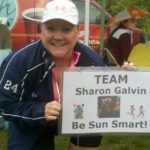 Sharon Galvin
A Message From Sharon
Hello Everyone!
I was diagnosed with Melanoma  on my left arm and had my first surgery in December 2007.  Because my children were young at the time, I knew I had to do everything in my power to overcome this diagnosis. After that surgery, I decided on the treatment and  began  the drug Interferon. That following September 2008,  they discovered a nodule in my left lung.  After being on Interferon for 10 ½ months, I had that Melanoma tumor removed on March 13, 2009.  I then  completed a clinical trial that summer at Memorial Sloan Kettering. I am very happy to say that I am presently 10 years cancer free of this horrific cancer. I gained the strength to get through these tough times from the love of my 2 children,  and also the love and support from of my family and friends. This will be my 6th year taking part in the CCMAC run. This year  my daughter Delaney (17) and son Kevin (15) will be part of my team. Today,  I am still very overwhelmed with the incredible support I receive from all those in my life. I hope to raise money to help CCMAC continue to do their part to educate and spread awareness so that no one else has to endure this horrific cancer.
Sharon
Purpose: To increase awareness of the dangers of unprotected sun exposure and it's link to skin cancer and the deadly disease Melanoma. To spread the "Be Sun Smart" message and saves lives.
Team Captain:    Sharon Galvin 
Team Members:  Sharon Galvin and You!   
The "More Information" button below will take you to a page with more information about the 5k Run/Walk. You can also register online and/or donate from that page.

The "Register Online Now" button below will take you directly to the registration page. On this page you can register for the Run or the Walk and make a donation at the same time.  

The "Donation Only" button is for individuals who are NOT attending the event. They are NOT Running or Walking, but wish to make a donation "In Honor Of, or In Memory Of" a TEAM, Person, or Organization. 

Be Sun Smart!