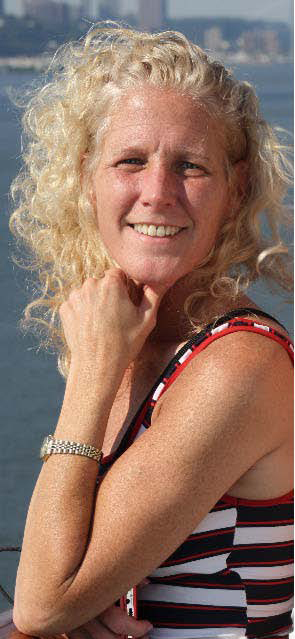 Lynn Devivo Bao 
1967 – 2015
A Little About Lynn: 
Lynn was raised in Woodside, Queens with her twin sister Chris and younger brother Jimmy. She was awarded a full athletic scholarship to play basketball and softball at Long Island University in Brooklyn. She received a Bachelors of Science degree and studied to become a Physician Assistant. She spent the next 20 years as a Physician Assistant working on Riker's Island. She met her husband Tony who was a Correction Officer. They were married for 19 years and had a son named Scott. Lynn devoted her life to help the less fortunate. She always found the best qualities in people and understood everyone had a story to tell. Lynn had an unbelievable sense of humor, willingness to give her love and energy to everyone who came in contact with her. Lynn was diagnosed with mucosal malignant melanoma (skin cancer from within the body). She battled gracefully and courageously for 3 ½ years. Lynn will be forever remembered. Her beautiful smile and loving heart is a true inspiration to all. Lynn would say always remember who you are and who you want to become, time can be short don't leave anything undone. Her selflessness and beauty inside and out will be missed. May god protect her in heaven, like she protected all of us on Earth.
Justyn Ceruti
Team Captain: Justyn Ceruti
Purpose:  To honor the life and memories of Lynn, and to create awareness and conversation regarding the importance of Melanoma awareness. 
Amount Raised: $2000.00
Team Members: Justyn Ceruti and You!
Arnie Epstein
Christa Klatsky
Raquel Zambrano
Bret Malone
Rachel Barry
Marisa Semmel-Reichman
Alyssa Esposito
Lauren Esposito

..

Michael Esposito
Thomas Esposito Jr.
John Espositio
Julie Esposito
Melissa Amitrano
Kelly Blake
Jean Sheridan
Scott Bao
Tony Bao
Chris Ceruti
Craig Ceruti
Hnery Ceruti
Justyn Ceruti
Marc Ceruti

………….

Irene DeVivo
Jimmy DeVivo
Tru Hunter
Kaitlyn Seabrook
Karen Dornicik
Patricia Kreuzer
Jean Sheridan
Kristie Capuano
Julia Rubin
Monique Mouton
Alison Klein
T. J. Burke
Christina Cambria
Carol Roseto
Sandra Dietz
DanaJude Olsen

..

Tiffany Claeson
Stephanie Joannon

.

Leslie Rubinstein
Michael Brostowski
Catherine Silletti
Kieran Morris
Alan Quackenbush
Jennifer Sussman
Steve Hopkins
Anthony Turco
Angela Zupa
Dawn Cerrone
Doric Capsis
Rick Norris
.
The "More Information" button below will take you to a page with more information about the 5k Run/Walk. You can also register online and/or donate from that page.

The "Register Online Now" button below will take you directly to the registration page. On this page you can register for the Run or the Walk and make a donation at the same time.  

The "Donation Only" button is for individuals who are NOT attending the event. They are NOT Running or Walking, but wish to make a donation "In Honor Of, or In Memory Of" a TEAM, Person, or Organization. 

Download Raffle Tickets for a Drawing to be Held that Day!
Return them in the mail (directions included in download) or bring tickets & money to the event.
Click on Image Below for the Raffle Tickets

Be Sun Smart!