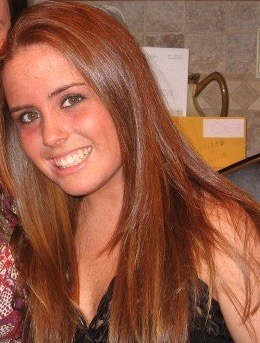 Leanne Kozak
12/18/1987 – 12/23/2015
A Little About Leanne
Leanne was born and raised in Carle Place and grew up as a top scholar-athlete. She went on to receive her Bachelor's Degree in Education from Penn State University as well as her Master's from Hunter College in Literacy. Leanne devoted herself to the children that she taught in New York City and Hoboken, NJ, and was loved by them, their parents, and her colleagues. In August of 2015, Leanne started suffering from terrible headaches and was misdiagnosed with migraines, until she was correctly diagnosed in October with Stage IV Metastatic Melanoma. She fought a tremendous battle and proved to us all what it means to be strong, steadfast, and courageous. On December 23rd, 2015, Leanne lost her battle to Melanoma, just 5 days after her 28th birthday. Her passion for life, family, and friendship is what she will be most remembered for. She is missed and remembered, and forever loved, by every single life that she touched during her short time here on earth. We walk in her honor and to remind everyone how truly fragile life can be.
Kathryn Kozak
---
Team Captain: Kathryn Kozak
Amount Raised: $4225.00
Team Members: Kathryn Kozak & You! 
| | | |
| --- | --- | --- |
| Kristen Dimmling | Chris Roussis | Melissa Roussis  |
| Stacey Winsch | Eileen Kozak | Kristina Stanton |
| Lindsay Eliasoph | Jennifer Pavone | Kara Henderson |
| Allyson McGintee | Debra Durante | Laura Musso |
| Rob Musso | Frances Comito | Danielle Wilkie |
| Rita Pavone | Robert Pavone | Kathryn Kozak |
| Courtney Cunnigham   | Michelle Milot | Joanne Pavone |
| Theresa Doscher | Heather Williams | Rini Donovan |
| Aj Marascao | Brittany Marasco aa | Susan Eliasoph |
| Danielle Burke | Nicholas Boyce | Dina Moakley |
Lori Diaz

Ashley Hackett

Brittany Troegele

Lauren Troegele

aaaa

Alexandra Cherami

.

 

Kristin Cole

Kevin Winsch

Michelle Winsch

Shannon Winsch

Lauren LaCorte

Gina Languilli

Nicole Urick

Matilda Kozak

Mike Kozak

Connor Kasny

Justin Camirand

Carole Ginnetty 

Alexandra Childs 

Stephanie Andre 

Travis Reardon 

Allison Maffettone  

Danile Pitelli 

Cory Radel 

Erin Garabedian 
Cindy O'Neil

aaaaaaa

Margarita Chavez

aa

Corey Radel
Carissa Canovas
Alexander Cherami
Deb & Brian Henderson
Caitlin Pujdak
Matthew Pudjak
Evelyn Chavez
Jorge Chavez
Darlene Williams
Terrence Walsh
Cassandra Vella
David Fernandez
Stacey Zarko
Christopher Gregorio
Jamie Omstrom
Allessandra Wendroff
Mary Schultz
Ina Frankel Foster
Natalie Niemczk
Kaitlin Donahue
Samantha Scriva
Rosemarie Gregorio
. .
---
The "More Information" button below will take you to a page with more information about the 5k Run/Walk. You can also register online and/or donate from that page.

The "Register Online Now" button below will take you directly to the registration page. On this page you can register for the Run or the Walk and make a donation at the same time.  

The "Donation Only" button is for individuals who are NOT attending the event. They are NOT Running or Walking, but wish to make a donation "In Honor Of, or In Memory Of" a TEAM, Person, or Organization. 

Download Raffle Tickets for a Drawing to be Held that Day!
Return them in the mail (directions included in download) or bring tickets & money to the event.
Click on Image Below for the Raffle Tickets

Be Sun Smart!