Team Georgia Siderias Kondoleon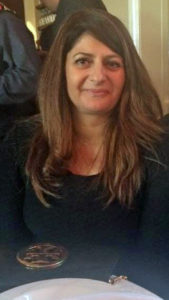 Georgia Siderias Kondoleon
A Little About Georiga
Georgia Siderias Kondoleon was born on April 19th 1972 in Kambia, Chios (Greece). She is survived by her husband John, and 2 boys George and Dino as well as her parents and a long list of siblings, aunt's, uncles, cousins, nieces, nephews and god daughter.
She came to the US at the age of 18 and lived with her uncle Nick and Aunt Barbara for 3 years. Georgia worked at her uncles business in Wantagh, Long Island; the Lighthouse Diner.
In November of 1992 she got married and began her life in Bethlehem PA with her family.
Georgia was a very dedicated, loyal, compassionate person and extremely hard worker. She went above and beyond for the people she loved time and again. Unfortunately, 2 years ago Georgia was diagnosed with Melanoma Cancer and lost her battle on April 27th, 2017. Georgia was a beautiful person inside and out. While battling this vicious disease, she never complained and always remained optimistic. She's the strongest person I know, and a true inspiration and role model to everyone around her.
I know you'll always be with us in spirit, forever in our hearts. Rest in paradise sweet angel!
Kosta Theodosiou
Team Captain: Kosta Theodosiou
Team Members: Kosta Theodosiou & You!
.
The "More Information" button below will take you to a page with more information about the 5k Run/Walk. You can also register online and/or donate from that page.

The "Register Online Now" button below will take you directly to the registration page. On this page you can register for the Run or the Walk and make a donation at the same time.  

The "Donation Only" button is for individuals who are NOT attending the event. They are NOT Running or Walking, but wish to make a donation "In Honor Of, or In Memory Of" a TEAM, Person, or Organization. 

Be Sun Smart!
---